Beauty & Health by Liz
Beauty & Health by Liz is your family-owned and operated destination for all things aesthetics and wellness in Tucson! We offer highly personalized care from expert providers and feature a variety of services that you won't find anywhere else. If you're looking for the royal treatment, you've come to the right place, as our team is here to help you find and reach your best self in a relaxing setting that's centered around you — learn more about us to find out what we can do for you!
Meet Lizbeth "Liz" Guerrero, MS, FNP-C
Liz Guerrero leads our team and uses her expertise to create the medical aesthetic results of your dreams. She began her healthcare career when she was 16 and has since accumulated over two decades worth of nursing experience and education. Her diverse background allows her to finetune her treatments to give you exactly what you want. In partnership with her husband and the rest of her team, Liz is here to provide you with the services you need to feel and look like your very best self!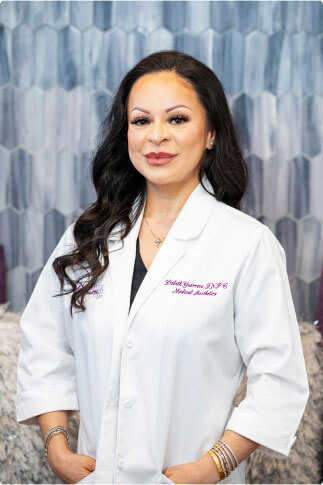 Your Beauty & Health, Backed by An Exceptional Team
We're proud to have such an incredible team of experts who truly care about your experience and individual beauty. Each member of our team has the qualifications to provide you with above and beyond service. Liz's husband, Mohamed Coulibaly Dit Fall, leads the medical side of our med spa, and he's highly skilled at providing a broad array of services. He'll provide you with the personalized care you deserve, so you can trust that you always feel heard when you visit Beauty & Health by Liz!
Aesthetic & Medical Services for
Face, Body, and Wellness
Body sculpting, skin firming, lip plumping, and hydration: all this and more is available at Beauty & Health by Liz! Our range of aesthetic and medical services will keep your body healthy while treating you from the inside out for lasting results and a healthier overall you. Each of our offerings are customized to your needs, because it wouldn't be the royal treatment otherwise!
Injectables
Injectables like BOTOX® Cosmetic, hyaluronic acid-based plumping fillers, and fat dissolving KYBELLA® are versatile wonders that can help you get the customized results of your dreams. Whether you want to freeze wrinkles, banish a double chin, or effortlessly sculpt your face, our experts will use our injectables to give you stunning results.
Face
Our facial services can regenerate your skin, prep you for a big event, and help you eliminate a variety of skin concerns, such as sagging, wrinkling, melasma, and uneven skin tone. From the innovative Morpheus8 to PDO threads, we have a variety of services to meet your every need!   
Body
Looking for a more sculpted physique or to quit your hair removal routine for good? Our body services can burn fat, build muscle, revitalize your skin, remove body hair, and much more. With world-class technology like the Cartessa Chrome laser at our disposal, we'll turn your body goals into reality!
Medical
Healing made simple: our supportive environment lets you focus inward on your health. From targeted supplement injections to guided medical weight loss and bio-identical hormone replacement therapy, we'll help you improve your overall wellbeing.
Accessibility & Financing:
How We Cater Our Care to You
Free Consultation
Schedule a free consultation with us to get a glimpse of the quality care you can expect to receive at Beauty & Health by Liz.
Bilingual Staff
We're proud to host bilingual staff members, including Liz who speaks Spanish and English, and Mohamed who speaks French. We're here to serve you, which means communicating in a manner that's most comfortable to you is of the utmost importance!
Friendly Financing
We offer various flexible financing options, so you don't have to miss out on getting the care and services that you need, when you need them.
Visit Tucson's Premier Medical Spa!
If you're looking for the best in medical aesthetics and wellness services near Casas Adobes, Catalina Foothills, Oro Valley, and more, Beauty & Health by Liz is the only medical spa you need! Our convenient location, wonderful staff, and broad array of services will keep you shining year-round. Discover our relaxing office and unwind with us as we provide you with the pampering you didn't realize you needed.